Meet the Designer: Q&A Charlotte Kidger
Written by Laura Snoad for Zetteler
'I feel the initial interest and urge to work with waste plastic is driven by the instinctive need to find alternative ways of using waste in general – answering the demands of finding new and alternative raw materials instead of harvesting what we already have at our fingertips.'
These are the words of designer Charlotte Kidger, whose debut furniture collection combines waste polyurethane foam dust from CNC milling with bright pigments and a resin to bind and make textural, colourful forms. Charlotte will be exhibiting as part of London Design Fair's Material of the Year spotlight, which for 2018 will focus on plastic. It's a hot topic – every year the world produces around 300 million tons of plastic, with the conversation around single-use plastics (often disposable packaging that is thrown away or recycled after one use) higher on the agenda than ever before.
For Material of the Year 2018, London Design Fair has invited four design studios – Weez & Merl, Kodai Iwamoto Design, Dirk Vander Kooii and Charlotte – to exhibit their experimental approach to this much-maligned material. Each specialises in reusing plastic to create new objects – reimagining the material to add value and in the process, changing our relationship with single-use plastics forever.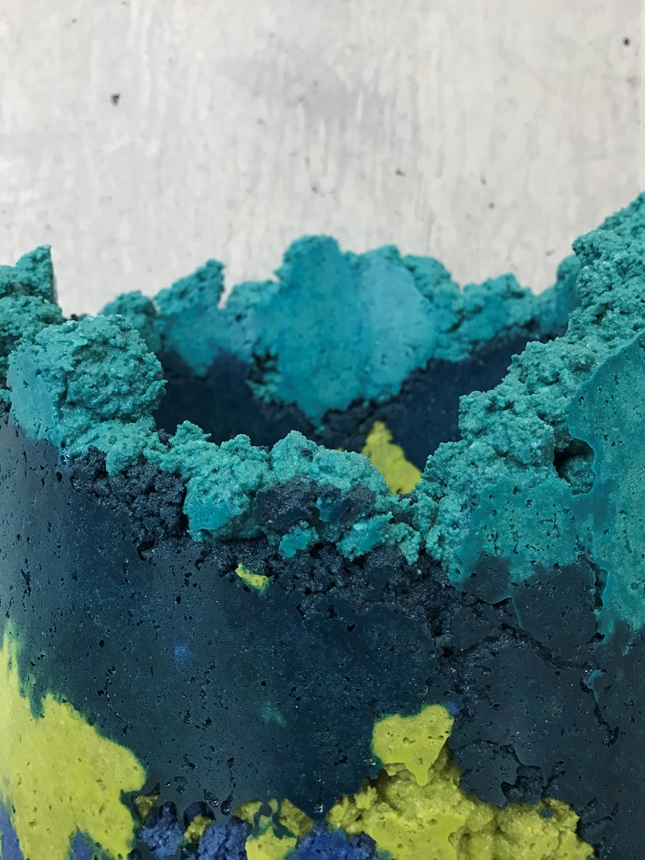 Why do you think plastic has become so popular with designers this year in particular?
I believe plastics have become the forefront of material choice for a lot of designers due to the pure proliferation of waste we are surrounded by. Given the current widespread exposure of environmental damage caused by plastics, it would be hard to ignore the idea of processing them as new forms of raw material. There is a design challenge associated with tackling plastics that is becoming more and more common among new and existing designers.
From a material designer-maker perspective, I personally feel a curiosity towards working with the unknown. We know certain material behaviours and qualities of polymers under normal restraints, but what's interesting (and why there is accelerating movement behind them) is the outcomes reached when changing the boundaries of how we process them. Approaching plastics from a serious starting point but with a playful take on how we process and make with them with tactility being the focus is what's driving the innovation behind how we are seeing plastics being used in design today.
What first drew you to experiment with plastic and what does it allow you that other materials would not?
I have always been fascinated with working with materials that I have little knowledge about. I have also always been drawn to working with synthetic materials. My background in surface design started the curiosity with pushing boundaries with different materials and new processes, so working with plastics (but from a more sustainable approach) during the MA seemed like a natural and inevitable next step.
Although I would be open to working with any materials natural or synthetic, what I like about working with plastic (and in my case a very niche industrial form of plastic), is the initial uncertainty of not knowing if I would even be able to process it into anything of any value or desire. You can have pre-connotations of how you think a material will act under certain constraints but with this form of plastic, I had no idea how it would react –fortunately for me, after lots of trial and error I reached an outcome that gave me a medium to work with.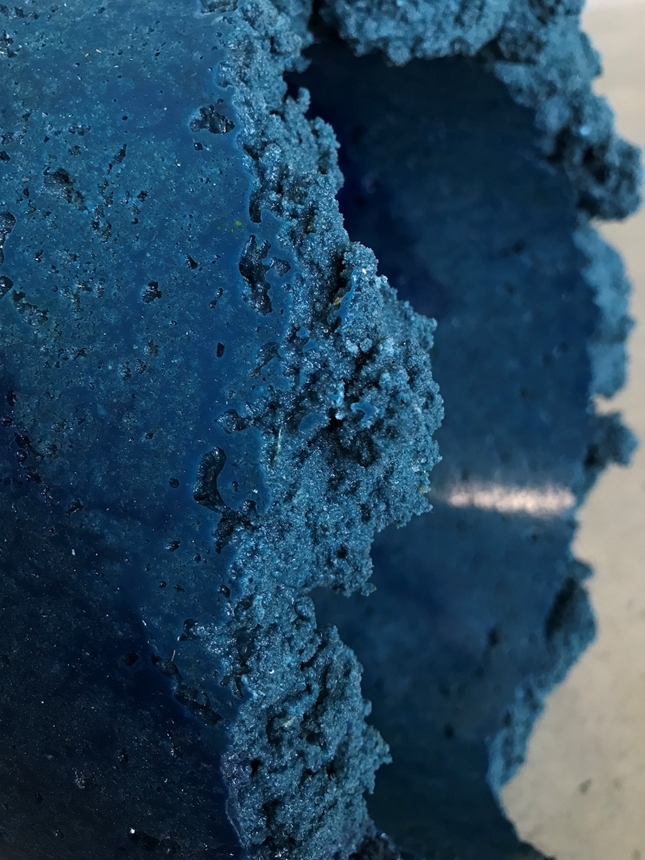 Where does the lightweight polyurethane foam dust you use for your collection come from and why is it such a problematic material?
The polyurethane foam dust is a byproduct from 3D fabrication companies that specifically use polystyrene and polyurethane foam for 3D modelling. During the milling process a very fine dust is extracted and provides the by-product to this process. I had first come across the material during the MA when experimenting with leftover pieces of what is most commonly known as blue styrofoam – there would often be scraps left over from product design and architecture students after they had used it to make model prototypes.
I then began research into more industrial forms of waste materials – plastic in particular. It was then that I came across a few specific companies that worked with large volumes of the polyurethane foam. Personal visits to a few different companies allowed me to understand the process and see the volume of waste firsthand – it was then that I immediately started viewing the dust as a secondary raw material and began to question how I could use and reprocess it. Prior to me visiting these companies their only means of disposal for the PU dust would have been through waste removal companies and then incineration or landfill. Due to its industrial nature alternative methods of recycling are still unknown.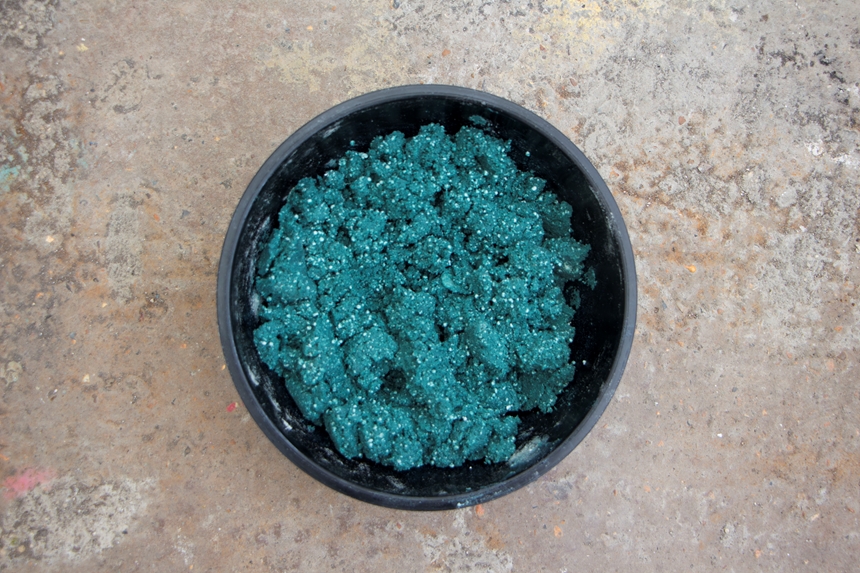 Walk us through the production process from collecting the dust right through to the finished objects…
After forming a close relationship with one company in particular, I have been working with their waste for the last seven months. Instead of the dust going into the skip I would collect bin bags at a time to then bring them back to the studio to work with. Through lots of investigation and trial and error I ended up with a composite material that sees the dust being combined with pigments and a resin to bind it together. With this new form of raw material I have a mouldable medium that I can pretty much do anything with. Deciding that I wanted to create large 3D forms that would best use the material in large volumes and best show the material qualities I decided to cast the composite into a series of vessels and two large tables. This was after playing with much smaller scale 3D forms to start with. Once I had tested the durability and different densities, I then knew what forms would be achievable.
The main craft within my practice comes from the mould-making. I design and hand-make all my moulds myself, mainly with silicon and jesmonite. I first find the positive shape from which I need to cast from – this is often left over pipes or sheets of corrugated metal/plastic – once I have these I began to create my moulds. Once the moulds are complete I am ready to start casting the material. Currently I have been altering the colour of the raw form of PU dust through adding small quantities of pigment to the glue, this not only allows me to make each piece completely unique and one-off but also helps create an alluring and desired finish. I am however, in the middle of playing with the natural colour of different dusts for a range of new samples for London Design Festival.
Once the composite has been cast it is left between 12-24 hours (depending on the size of the piece) to set. The exciting, but also very daunting, part of this process is the set time and the run up to taking the mould apart. Due to working with a new material that I continue to learn new things about, each piece often comes out slightly unexpected. This could be seen as a problem but for me it is the beauty in the process – I can somewhat control the material through the form I cast into and the pigments I add but it then forms its own identity during the curing process. The defects, which I now consider the best parts of the design, give each piece unique elements. Depending on the finish I require the pieces are either completely left as is straight from the mould or I then sand and polish them to create a more matte finish. Investing time into the mould-making is a crucial element to my process in ensuring as little energy (quite often zero energy) and always zero waste is obtained. If needed, the material can be cut, milled and sanded the same way as wood – from this I then keep all the cut offs to use as test pieces or collect the dust to put back into new pieces.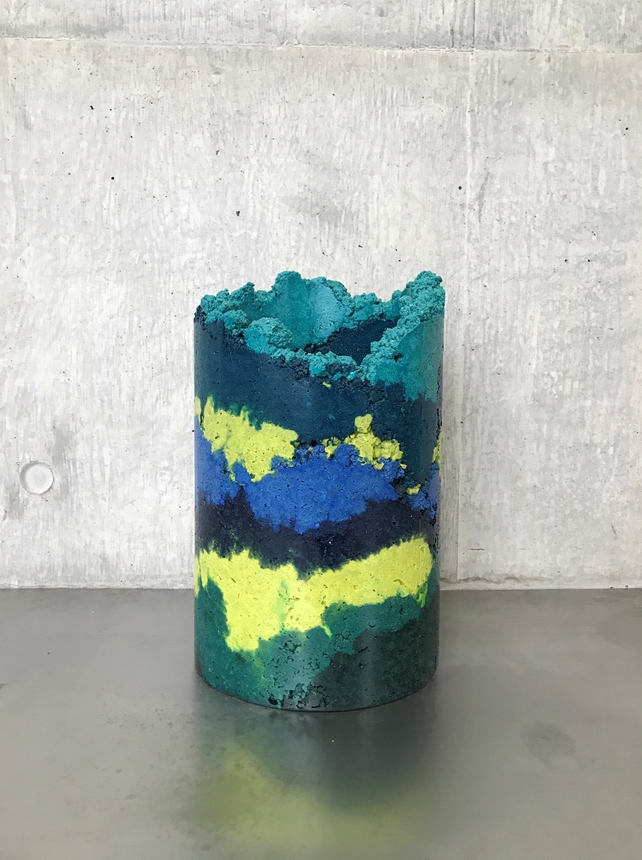 Why do you think courses like Material Futures are so important for the creative industries in the UK and beyond?
I believe the course and courses like Material Futures are so important as they really help you have a more open mind towards what design is and what it means. You certainly have to have an open mind before committing to a course like Material Futures in order to work out of your comfort zone with unfamiliar ideas, materials and processes but it really helps you view things from a more sustainable or much wider context than you are used to.
I think although it is becoming more common for new designers to be researching and making with problematic materials or with sustainability being a focus, MA Material Futures helps situate you at the forefront of this movement through testing your limits and pushing you in new directions that you may not have previously thought of exploring. The creative industries will only continue to need more sustainability-focused design so we therefore need more institutions and courses to drive this movement from an educational direction.
---